CHRONIC RESPIRATORY DISEASE (Avian Respiratory Mycoplasmosis)


Etiology
This is very common desease occuring in almost any flock especially under bad management. the casual organisms are mycoplasma gallisepticum. the organisms may be isolated as round colonies with a central nipple, as a dicribed in the section of laboratory methods, the organisms grow at pH 7.8 and at 37-38C in a medium containing 10-14% porcine serum, which should be heat in activated. phenol red and dextrose in the medium indicate growth by change of colour of medium from red to orange in 5 to 10 days, 2, 3, 5, tetrazolium chloride also indicates growth bye change in colour.
Host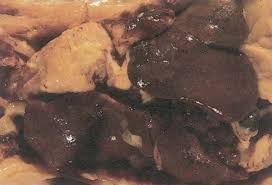 The disease commonly affect 4 to 10 week old bird especially the broiler and turkey. It may occasionally affect older birds as a complicated disease caused by another bacteria
Escherichia
coli
and sometimes respiratory viruses.
Symptoms
The disease start with sneezing, coughing, respiratory distres or gargling sound during respiration. Unlike other respiratory disease. it spreads relatively slowly to other bird. Eyes may show frothy exudate and conjunctivitis. Some time, when very chronic, the symptoms may hardly be seen. they may also be reduction in egg production to as much as 50%, 7-14 days post infection.
Diagnosis
The lession of air sacs at postmortem examinaton are very important.
When the symptoms and postmortem examination indicate suspicion of CRD, then do rapid plate agglutination test bellow. many bird should be examined in a suspected flock
For this test, coloured antigen can be prepared or obtained, in small vials. For this test about 0.1 ml (one big drop) of coloured antigen is placed on clean glass slide and mixed with one loopful (bacteriological loop) of blood of a live. diseased bird (blood is taken from wing vein) of blue colour develop within 3 minute after mixing. the test in considered positive. if the temperature is cold, then fine clump develop.
Prevention
If M.gallisepticum are killed in hatching egg then the flock can be the maintained free from the disease, this is because one of about 50 eggs laid by an infected hen contains thes organisms an after hatching the infected hatched chicks spread infection to others.

Killing M.gallisepticum in hatching eggs

eggs are heated for 2-3 hours by keeping them in egg incubator, after this, the eggs are dipped in a watery solution of 04 to 01 per cent tylosin tarterate or erythromicyn or gentamycin, the temperature of which should be 2 to 5 degree celcius, eggs are dipped in the solution for 10 to 30 minutes. this methode causes expansion of egg contents by heating to 37 to 38 degree. (incubator temperature) and dipping in cold antibiotic solution causes shrinkage and entry of solution. sufficient to kill the organisms.